Real-love-story-telling
08 Feb 2019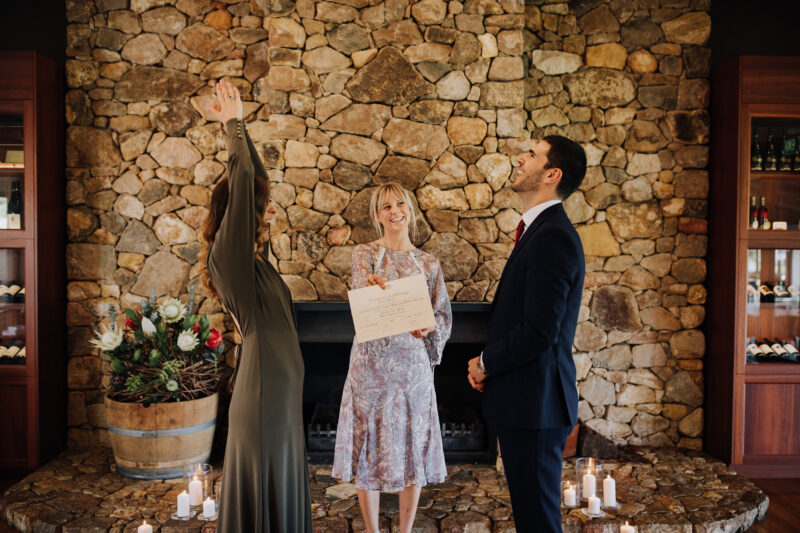 "When love beckons to you, follow him,
Though his ways are hard and steep."
The opening words from Gibran's On Love. Earlier this month I read this piece as Clare and Dann's wedding bands were carefully passed from hand to hand, each guest infusing the rings with their best wishes and loving intentions.

Before I marry a couple, I invite them both to answer a questionnaire (separately) about their relationship. I suggest opening a bottle of wine and making a night of it – some couples do and others just squeeze it in where they can. Sometimes they tell me it was one of the most romantic nights they've ever shared, others find it incredibly challenging to find the right words or reflect on a deeper level upon something which has become so every day. Like asking a fish to describe water.

Some couples' stories read like a fairy tale, others a comedy. Invariably there are moments of deep reverence for the other, as well as mention, most often very subtly, of a challenge that somehow solidified their relationship or their decision to marry. Occasionally when the story is too rosy, I find myself wondering if I am getting the full picture. I certainly don't subscribe to the idea that nothing good comes easily, but in my experience (personally and as a celebrant) and in the stats around marriage and divorce, it seems the way of love is indeed hard and steep, but perhaps we just don't like to talk about that when we're getting married.

There seems to be a fairly pervasive cultural myth that "when it's 'the one', it will be easy" and therefore perhaps we want to maintain a façade of effortless joy and ease when we make the decision to marry. Yet this pretty blatantly contradicts the real-life stories of most people who are about to get married or in fulfilling long term relationships (yes I feel it's my professional responsibility to ask happily married strangers for their heroic tales). What seems to hold true in more cases, is that its when we find flaws in our lover and we choose to see that as an opportunity to grow love, rather than withhold it, that we make that person 'the one'. When there is the inevitable conflict, violation or triggering, but we are still willing to stay in love and to continue wholeheartedly on the journey, that is the kind of love Gibran is talking about, and perhaps the only love really worth having.

I think anyone in a long-term relationship knows this, yet it seems almost taboo to talk about struggle or hard work at a wedding. As a celebrant I get it, you want it to be joyous and extraordinary, but on a personal level, I find it's a real shame because it's both unrealistic and a missed opportunity to create some lightness and solidarity around relationship and the challenge it presents to us as humans. I'm not suggesting a ceremony ought to be all doom and gloom, far from it, but I know that open hearted truth-telling in both your story as a couple (told by me) and your vows to one another (spoken by you) make for a ceremony that is powerfully moving.

A love where two people have worked hard to create a relationship that feels amazing to be a part of is no less inspiring or 'meant to be' than an easy peasy, picture perfect romance. If you have committed to your lover despite trying times and dark nights of the soul, be proud of that, and let that be celebrated on your wedding day. A glossy insta-version of your love story doesn't nourish our hearts and souls the same way the truth could.