What's so great about a ring?
18 Oct 2021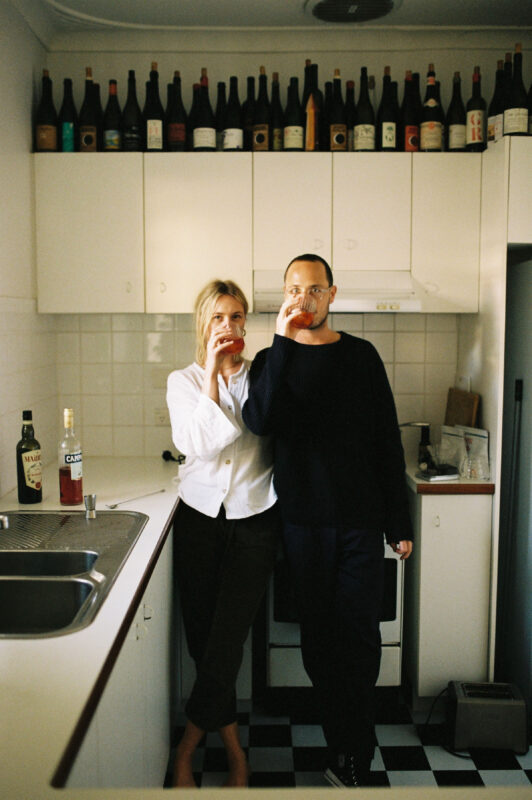 When Lajos proposed to me in June, I began to do a lot of processing of my beliefs around marriage and relationships. In the past four years through my ceremonial offering as a marriage celebrant, I've spent plenty of time contemplating these cultural conventions and working out how to place myself within/beside/counter to them. At times I've felt deeply connected to the idea(l) of marriage and its role in providing accountability and a weaving together of humans which in turn strengthens community. Other times I've felt completely resistant to the ways in which we place marriage on a pedestal without proper interrogation of the values and intentions implicit in the practice.

Despite all my prior contemplation of marriage, like most things in life - the actual happening of the event (meeting someone who I actually wanted to marry) and all that comes with and before it, has so far, been unlike anything I imagined or could have prepared for. From afar, other people's relationships can look so simple - seeming to pass from one stage to the next so smoothly and without hesitation (and I assume that for some people it actually IS that way). But, as someone who experiences life as extremely complex, who feels a lot, questions everything and has a strong desire to make decisions that align with my deepest values, I wanted to share some of my processing and the complexities of how it's felt for me (so far).
Side note: I actually proposed to Lajos (pronounced 'lay-osh') in December last year (admittedly it was a little underwhelming: I offered him the ring pull of a bottle of Bundaberg ginger beer while we were on a long drive). It fell to the wayside as a joke, or a preamble to what would eventually be a 'real proposal'. Had he proposed to me in that same way would that have been our official engagement? Relationships are complex, so of course there's many reasons why it wasn't… but, it's food for thought.

A LITTLE TOO MUCH CONGRATULATING
These are some ponderings I wrote (but held off sharing because I wanted to make sure they held true beyond the heat of the moment) when we first became engaged in June:
As overjoyed and fortunate as I feel to be signing up to marry someone I love so much (and entering into the responsibilities and freedoms I feel come with marriage), I also want to acknowledge what I notice as being deeply flawed about the way we revere marriage. I've discovered in the last 24 hours that getting engaged is perhaps THE most wonderfully celebrated and praised milestone of a lifetime. We received an extreme, overwhelming amount of celebration for doing something that has virtually no real value or importance in and of itself. Any uneasiness about this is easily swept aside with the reassurance that it's simply the people you love being happy that you are happy. But I feel this is shallow thinking. With the hyper-celebration of engagement (and marriage) comes, implicitly, a derogation of being unpartnered (in the same way the anticipation and celebration of pregnancy implicitly marginalises those who are not parents). And this really bothers me. Why is there this glorification of a ring and a wedding (or a baby) over so many other wonderfully brilliant moments, achievements, legacies and transformations in the life of a person?
My deepest meaning and purpose in life comes through being of service, meaningful connections, and my commitment to my spiritual path and relationship with the divine. My life was FULL of love and wholly complete before I met Lajos and it will continue to be if there is ever a time when our relationship is no longer of service to our lives.
Perhaps, rather than an engagement, a wedding anniversary is the thing to be revered and celebrated so generously? That is, if the anniversary marks not just the passing of time, but the ongoing mutual flourishing of those people. If a marriage isn't fertile ground for two people to contribute more effectively to the world, then what about it is worth celebrating?

MAYBE WHAT IT IS THAT WE LOVE TO CELEBRATE IS ACTUALLY HOPE, AND THE POSSIBILITY AND POTENTIAL FOR JOY THAT LIES IN A PROPOSAL, A PREGNANCY, A WEDDING...
PERHAPS THIS EMPHASISING OF FUTURE HAPPINESS IS A SALVE TO SOOTHE OR AVOID THE COMPLEXITY OF REAL LIFE AS IT IS IN THE PRESENT?
I'm reflecting now on the ways I can better celebrate the ones I love in their achievements and milestones as people individually. Their commitments to important issues, their service in the world as parents, business people, employees, the projects they bring to life, the gardens they grow. I want to better celebrate the partnerships and unions (even inner unions) that they tend to in order to make the world a better place, solve problems, nurture life and be loving.
All of those ideas still ring true for me now. I've also been working out why it is that (despite my issues with its over-glorification) I do believe marriage to be a useful and wonderful act. Fundamentally I believe it's this:
I AM CONVINCED THAT THE ENTIRE WORLD CAN BE INFLUENCED IN AN EXTRAORDINARILY POSITIVE WAY WHEN ONE PERSON LOOKS LOVINGLY INTO ANOTHER PERSON'S EYES.
I understand a committed relationship as a dedication to seeing a person through the eyes of love on even the days when that feels impossibly difficult. Particularly on the days when that feels difficult. When it is our job to love a person, we have a constant reminder in our lives of what it feels like to be tender even when that's not convenient or easy. We are called to be soft and forgiving, to see and be seen vulnerably by another person without employing any defences.
So much about the world we live in creates hardness in us. We detach, we rush, we busy ourselves away from intimacy. We prioritise ends over means. In such a world, I can't think of a more useful spiritual practice than having one person to serve as your daily physical reminder that there is an immense power in the generosity of your love, and to have someone reveal the edges and limitations of our capacity to be an expression of love, so that we can can grow our capacity to be an expression of love.
We're all just walking each other home
RAM DASS