My story of radical self acceptance
06 Sep 2021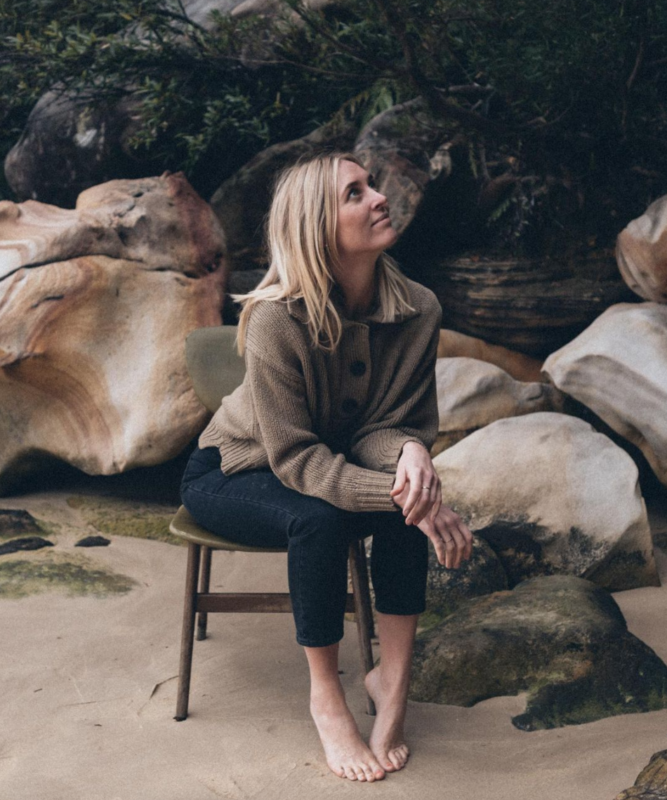 I remember feeling in my early twenties that I would never be able to be a yoga teacher (although I wanted to) because I would never feel comfortable wearing tight yoga clothes in front of a whole class! It seems strange to me now but it was SO real to me at the time. I knew that my self-consciousness would cause me to shrink in front of any students who would come to my class. I knew I needed a huge shift to occur in order to overcome the belief that my physical body was something to be ashamed of.

At the worst of my obsession, my weight was a factor in all of the decisions I made in my life. It impacted my sex life, the clothes I felt I could wear, how I felt in social situations, what I ate and how much joy I could find in life. When I see photos of myself through this time I see such a dullness in my eyes. It breaks my heart that those years were plagued with insecurity when I ought to have been having the time of my life.

Before I began this work I was in what felt like a constant war of dissatisfaction with my body, and it lead me to 'check out' from myself. I didn't carry myself with pride or confidence. I was always looking for ways to cover up or hide some part of myself.

I dreaded the feeling of walking down to the ocean in my bikini and knowing there was a group of people sitting on the sand watching and (I believed) criticising the way I looked.

When a photo was being taken of me at a party, I remember the stiff posturing and the ways I would contort myself to try to angle every body part in the way I believed was most flattering. All the while trying to pretend I was completely at ease.

I dreamed of a life in which I felt free, a life where I:

- didn't worry about food, but simply ate it and enjoyed it

- didn't think of my body as good or bad, desirable, or disgusting, and simply appreciated it for what it was

- could do whatever I pleased without fearing being seen, or looked at.

- could be whoever I wanted to be and feel worthy in my body no matter what size I was, what I had eaten or how much I had exercised.

I wanted to be free to go anywhere, wear any clothes I liked and take up space in the world without the constant background noise of an internal battle between my desires, appetites and impulses.

I DREAMED OF THIS LIFE FOR A LONG TIME AND THEN EVENTUALLY, I GAVE UP DREAMING AND BEGAN TO TAKE ALIGNED ACTION TOWARDS HEALING MY RELATIONSHIP WITH MY WEIGHT AND MAKING PEACE WITH MY PHYSICAL BODY FOR GOOD. I KNEW THERE WAS SOMETHING THAT NEEDED SPIRITUAL HEALING IN ORDER TO GET TO THE ROOT OF THE PROBLEM.
Basically, I became sick and tired of my self-disapproval and the way my self-consciousness was holding me back and decided enough was enough.

As Elizabeth Gilbert said "I've never seen any life transformation that didn't begin with the person in question finally getting sick of their own bullshit".

I don't have a 'before and after' style weight loss journey, but I do have an experience of shedding a huge amount of shame, negative beliefs, stored memories of feeling that my body was unacceptable/unlovable, disordered eating and chronic overthinking about food, and then emerging into what feels like a completely different body. I feel lighter and my weight is stable. I can eat intuitively in response to my body's needs and I don't obsess over my weight.

I had always felt that I was carrying this extra weight that wasn't really me. A feeling of "if I could just lose a couple of kilos I wouldn't have to worry anymore" – but the weight wouldn't budge through diet or exercise because it was emotional/psychological. I learned to create a new reality for myself, starting with my mind. It has taken me 7 years from the start of that journey to creating this program and I have learned A LOT along the way. As my body image battle become more and more of a distant memory, and I became sure of how effective these teachings are I knew I needed to find a way of making this offering accessible to all.

These are the tools I used and continue to return to if I feel old self-conscious habits or negative thoughts returning. I no longer have any angst about my weight or my food choices any more and I KNOW that the physical appearance of the body I exist in now is a product of my commitment to these practices
BEGINS SEPTEMBER 12

ENROL NOW and receive immediate access* to Day 1.

The rest of the coursework will begin this Sunday.
$177
or 3 payments of $59
*You have access to the course for 12 months and can complete the work in whatever time frame suits you. The container is simply created so that for these 3 weeks all those enrolled have my dedicated time and attention, additional support emails and a Q and A opportunity before the closing ceremony.